Philips 3000 Series AeraSense Air Purifier AC3256
Philips 3000 Series AeraSense Air Purifier AC3256
murli dhar vyas colony | New
Posted Date: 20-04-2018 | 08:23:37

Product Description
Bring home the Philips Portable Floor Console Air Purifier and save your family from respiratory problems.

Aerasense Sensing Technology
This air purifier also displays indoor air quality, thanks to the Aerasense technology. The indoor air quality is displayed using PM2.5 as an indicator.
VitaShield IPS Technology
Even microscopic allergens, as small as 0.02 micro metre (more than 100 times smaller than PM2.5), that dwell in your surroundings are removed with the VitaShield IPS technology. VitaShield removes about 99.97 percent of the common airborne allergens.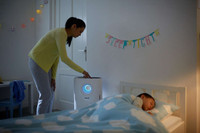 Performance
Keep harmful viruses such as H1N1 at bay with the thick NanoProtect S3 filter boost that delivers clean air up to 367 cubic metres per hour. This air purifier is perfect for a room size of 76 square metres and offers protection from harmful gases such as
$ 32999.00
Safety Tips for Buyers
Meet seller at a safe location
Check the item before you buy
Pay only after collecting item
Similer Products
Ooops!! Record Not Found.